Art Event Adriaan Rees @ Soestdijk Palace
In the garden of Soestdijk Palace is a unique exhibition of monumental sculptures by renowned artists as, Adriaan Rees, Armando, Levi van Veluw, Marte Roling and Christian Hack. Inspired by the annual sculpture exhibition "Beyond Limits" in the gardens of Chatsworth Castle in Derbyshire.
It is substantially a continuation of what originally occurred mainly in the interior of the palace, where the interested visitor whip historical game iconografi (meaning and symbolism of the images), was take by the hand to get entertained or to learn something.
Often contain references "keys" which told about current or historical residents and users.
Adriaan Rees (1957, Amsterdam) lives and works in China and Amsterdam. Rees is famous for his large-scale projects and assignments for public space. He makes sculptures and installations in many materials such as ceramics, bronze, glass, textiles, plaster and stone. His work can be found in collections around the world. He is an artist who is not predictable, someone who always surprises with new ideas and approaches, a cosmopolitan artist. From 2000 Rees increasingly went to Asia, specifically to Japan and then to China. He is so intensely affected by these cultures so he settled in Jingdezhen and works in his own atelier/workshop, among the hundreds of porcelain workshops locally. He begins by making large pot forms that resemble urns with animal and human body parts. He starts working with other artists and works with Chinese craftsmen to get realized many of his designs. Tradition and innovation, humor and seriousness, monumentality and intimacy, vulnerable and tough, traditional and contemporary, real and fantasy, dream and reality. All this you can find in his sculptures. The dialogue between cultural traditions like Europe and Asia. He teaches in the Netherlands, Germany, Finland, the US and China, and also works as an art advisor and curator.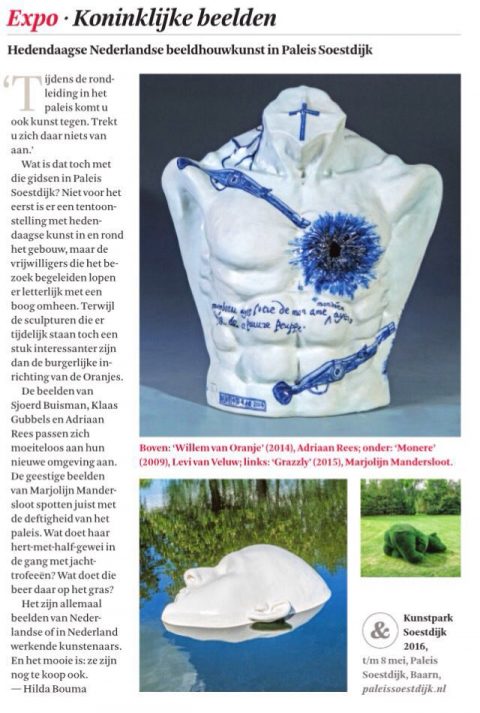 Till May 8, Adriaan Rees @ Soestdijk Palace, Baarn https://www.paleissoestdijk.nl/agenda/kunstpark-soestdijk-2016.html
---
See also Art Event